Do you want a nice little cold refreshing snack and/or dessert? I made the best last week! There are several recipes very similar, which tells me, it must be a favorite for LOTS of people.

Do you have these ingredients on hand?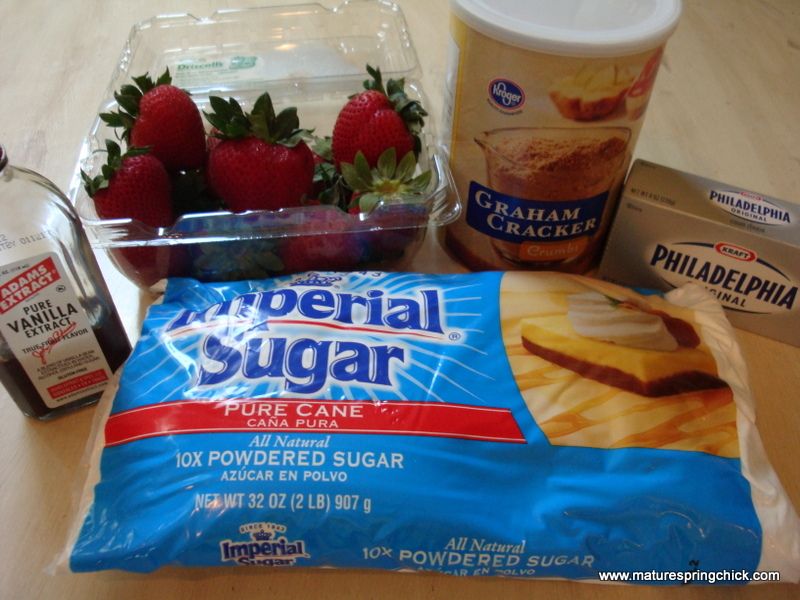 Ingredients


.


These are the ones I made
The recipe I followed is from
The Sweets Life
on Pinterest.
Ingredients:
1 lb large strawberries
8 oz. cream cheese, softened (can use 1/3 less fat)
1/2 cup
1 tsp vanilla extract
graham cracker crumbs
Directions:
1. Rinse strawberries and cut around the top of the strawberry. Remove the top and clean out with a paring knife, if necessary (some may already be hollow inside). Prep all strawberries and set aside.
2. In a mixing bowl, beat cream cheese, powdered sugar, and vanilla until creamy. Add cream cheese mix to a piping bag or ziploc with the corner snipped off. Fill strawberries with cheesecake mixture. Once strawberries are filled, dip the top in graham cracker crumbs. If not serving immediately, refrigerate until serving.
Big Tip
I used a petite muffin pan to hold up the strawberries after filling, until I finished them all and firmed them up in the Refrigerator. I had leftover filling after filling my strawberries and baked a little graham cracker pie crust in a bowl and made a petite cheesecake.
Use while filling strawberries