I love Italian Restaurants. My dining experience at
Veni Vidi Vici
was delightful. Veni Vidi Vici opened their doors in 1990 and serve Classic Italian cuisine. Hand made pasta, rotisserie meat, lovely desserts and an extensive Wine list is their recipe for a Classy Restaurant. This five star restaurant, in my opinion, is definitely a recommendation from me!
Okay now for some trivia....
What does Veni Vidi Vici mean in English? Read on!
Hand Sliced meats is one of the restaurants specialties.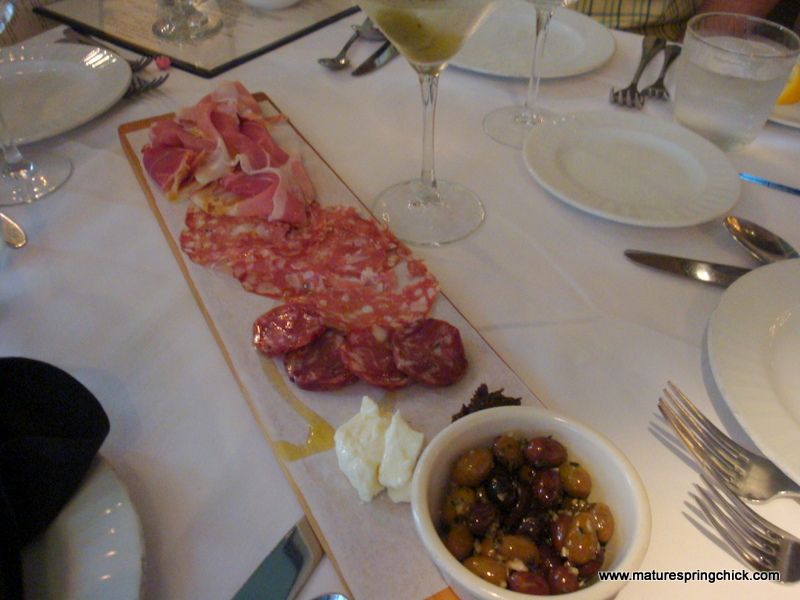 Affettati E Formaggi
Italian's favorite salad, Caprese. Absolutely delightful. Tomatoes were tender and juicy bursting with sweetness.
Caprese
Ravioli filled with rotisserie meats and fontina cheese, brown butter, sage and pecans. The ingredients of the dish served with the sauteed spinach was a divine creation of excellence.
Agnolotti
I have always felt like Bruschetta was a glorified pizza. shhh don' tell the chef! The roasted tomatoes and calabrese burrata blended together was fabulous!
Bruschetta
Costata Di Vitello
The grilled veal chop with arugula and grilled portabellas was tasty, tender which tantalized me for more!
The Fresh Market fish of the Day was Snapper! The whole fish is roasted with fennel and olives. Tasted wonderfully fresh and was presented on the plate remarkably.
Pesce
Maialino
The favorite of the evening...
The signature dish of the restaurant...
Suckling Pig served with savory cabbage.
Fantastic explosion of flavor...
Gnocci Malatti
This dish complimented all our entrees. Very unique spinach and ricotta dumplings with Gorgonzola, speck and cream...Rich and creamy, need I say more?
The Wine chosen blended very well. The smooth subdued was so exquisite, we had to have another...bottle that is!
Chateau de Jean






<><><> >
Couldn't finish up without dessert!
Beignets Bonboloni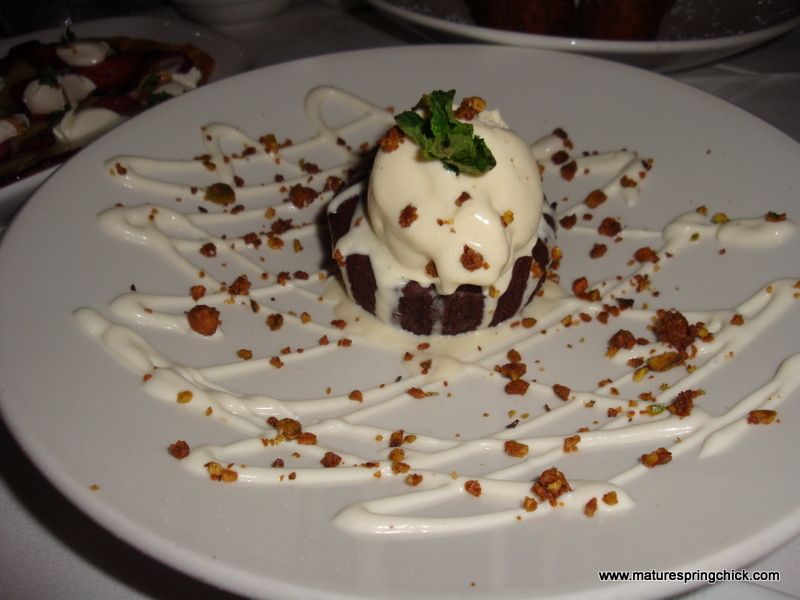 Cioccolate Fondente
Located on 14th Street in Midtown Atlanta, delicious food, reasonably priced and fantastic service! Our waiter was superb! Ivan (pronounced Evon) was exceptional in his recommendations! Ask for him!
Ivan
Answer to trivia: I came I saw I conquered