Yay, I can brag about my July package from my foodie pen pal! How lucky I was to be matched with
Colleen Bauer @ Secrets from the Cookie Princess
! I came home from a long week of travels and look what I found!
I know you want some details!
Home Made Coconut Oatmeal Chocolate Chip Cookies...How did she know Coconut and Chocolate are my favortie flavors together!
Truffles, Yes! Milk chocolate with hazelnuts made my Schogetten. Pop in your mouth magic!
Petite cookies too! Hello Panda Chocolate Creme filled, delicious to the last bite...
The spices!! Arizona Dreaming with a tips chart...I tried it in the Fried Chicken flour mix....WOW
Mustard Dipping Sauce with Chipotle and Jalapeno.....remarkable bite with Crisp pretzels and I went to the
Kolache Factory
, got me a Texas Hot Polish Sausage (with Jalapeno), brought it home and did some serious dipping in the mustard....Where can I buy this Dipping Sauce? I can't live without it!
Who doesn't love TEA? Great flavors were in my package and I have enjoyed a different one each week! Pomegranate Blueberry, Black Tea, and Arizona Green Tea.
Lastly, some beautiful recipe cards....which we never have enough of.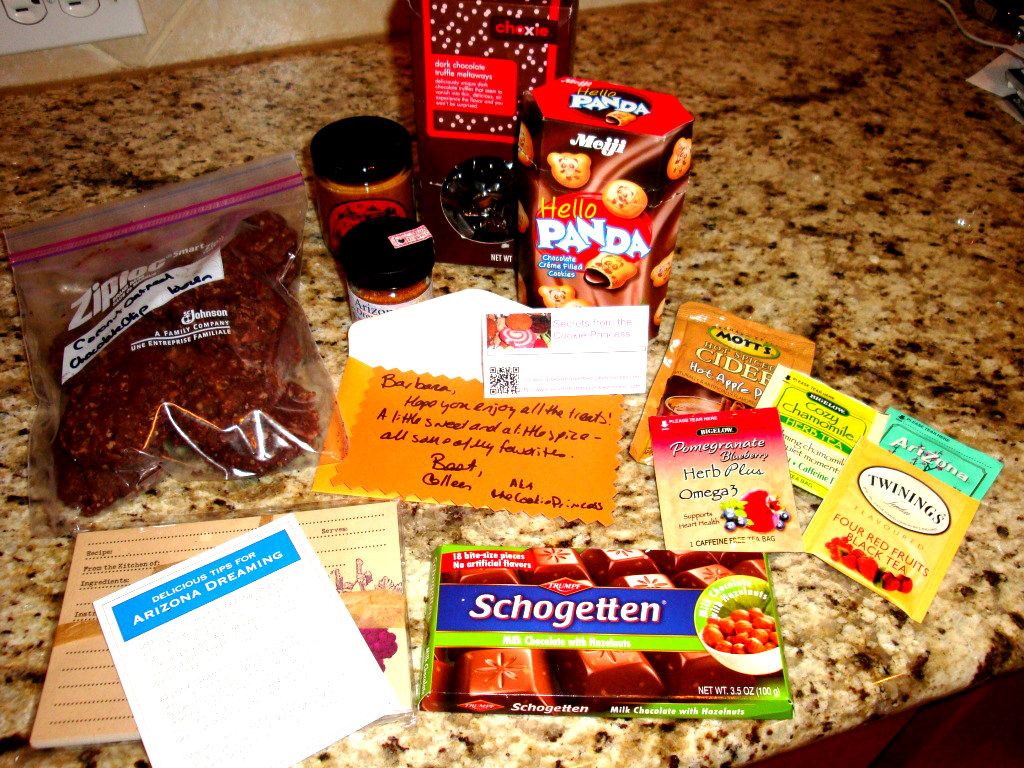 Thank you so much Colleen, You're the best!
Would you like to join?