Finally! I can reveal my package contents from Erica!
Do you know about Foodie Pen Pals? Read all about it out and Join. Maybe you will be matched with me and receive some great surprises all the way from Texas!
Don't you love getting packages? I do!
What a nice surprise to open the box and read such a lovely note from Erica all the way from New Jersey. AND it is filled with food! So many different items to taste and enjoy... I am smiling.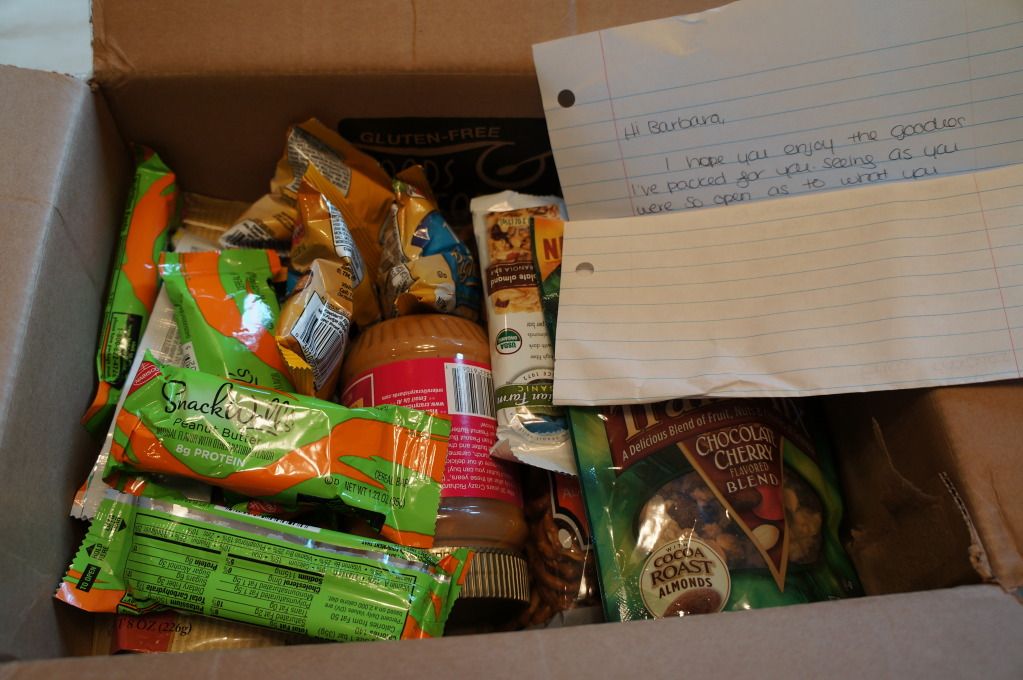 Erica chose a great combination of snacks....I snack all day! I didn't realize that All Natural pretzels were so delicious. Pennysticks Brand Mini Pretzels dipped in the Crazy Richards Creamy Peanut Butter.....Oh my.... The Snack Wells protein Bars come in handy when I don't take time to eat a meal and the Peanut Butter ones are very tasty, giving me 8g of protein! Who doesn't like Trail Mix. psst! I have it at my desk and munch on it several times a day. When Erica contacted me she asked me if I had any wishes. I told her I eat EVERYTHING....(I'm blushing with embarrassment), but that I do have a weakness for cookies. How did she guess that Chocolate Chip was my BIGGEST weakness?
Unfortunately, the Famous Amos Chocolate Chip and Pecan were the size of one per bite and you see the big bag? I couldn't stop eating them....popping them in my mouth so fast. YAY for Famous Amos! OMG the Keebler 100 Calorie Right Bites!!! What a fantastic snack with just 100 calories! As you can see in the picture, mine were White Fudge Dipped Pretzels and Mini Fudge Stripes. #1 snack and Right Bites are Right for Me. Lastly, the Granola Bars, my favorite snack I eat right after my Yoga class. How did she know? I had not tried the Organic type before and was very impressed with the taste of the Cascadian Farm Brand...especially the Dark Chocolate, Almond, chewy one.
This sums it all up.
Thank you so much Erica!
I love being one of the Foodie Pen Pals! Don't you want to be a part of a great thing!