I just had to do a post on dogs. I love talking about food and why not talk about some food for dogs. I can tell when my pups have a tummy ache! That look on their face...you know what I'm talking about! They want to snuggle up close and lay their head in your lap! Well, how about a recipe for a doggie biscuit that can soothe their tummy ache!
Don't they look divine!
Found this Recipe at
Simmer Till Done
.
Made with Pumpkin!
Apparently, the pumpkin works an enyme magic on stomach irritation. I am certainly not suggesting this because I am qualified to offer medical advice for your pups. However, if they like it and they feel better, it is worth the effort! It only takes 1 Tbsp! But wouldn't they feel special if you made these great looking biscuits??? You betcha!
Ingredients:
2 eggs
1/2 cup canned pumpkin
2 tablespoons dry milk
1/4 teaspoon sea salt
2 1/2 cups brown rice flour *
1 teaspoon dried parsley (optional)
Directions:
Preheat oven to 350.
In large bowl, whisk together eggs and pumpkin to smooth.
Stir in dry milk, sea salt, and dried parsley (if using, optional).
Add brown rice flour gradually, combining with spatula or hands to form a stiff, dry dough.
Turn out onto lightly floured surface (can use the brown rice flour) and if dough is still rough, briefly knead and press to combine.
Roll dough between 1/4 – 1/2″ and use biscuit or other shape cutter to punch shapes.
Place shapes on cookie sheet, no greasing or paper necessary.
Press fork pattern on biscuits before baking.
Bake 20 minutes.
Remove from oven and carefully turn biscuits over, then bake additional 20 minutes.
Allow to cool completely on rack before feeding to dog.
*
Brown rice flour gives the biscuits crunch and promotes better dog digestion.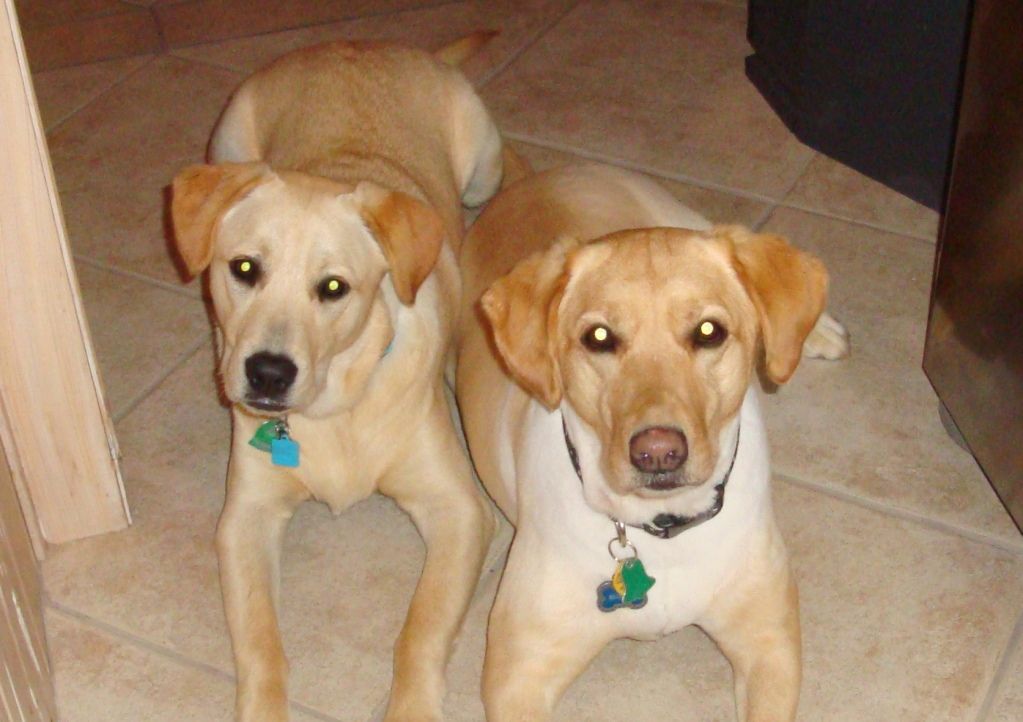 Dude and Blondie

Uh Oh, something tells me my pups have that look! What do you think?