How about a fun snack for the weekend football crew? You definitely should include a Halloween Treat!
My daughter sent me a great idea! Like many of you, Halloween is her favorite Holiday. She also loves to bake and decorate!
Inspired by
Taste of Home
, she got busy making her treats for a group she attends each month. She made several changes to the design of the cat and hers are so much cuter! Not that I am biased of course. You be the judge!
Adorable right? I am in-love with the design.
Ingredients:
Cake Batter-
Chocolate Box Cake Mix
Use ingredients recommended in directions.
Icing-
1 cup Crisco
1 lb (8cups) powdered sugar
7-8 Tsps water, or more for desired consistency for piping
1 tbsp Wilton Meringue powder
1-2 tsp Wilton Vanilla flavor
Violet Wilton Color
Tip #233
Featherweight bag and coupling
Cat Face- these are used in photo
Corn chips - (Off brand Doritos)
Green M&M's
Shoestring red licorice (Twizzler Pull & Peel)
Black licorice
Chow Mien Noodles
Directions:
Bake your cupcakes as directed on box mix.
Mix all icing ingredients in mixer on medium.
Add Violet Food Coloring.
Blend with spatula until you reach desired color.
Place #233 tip on featherweight bag.
Fill bag with violet icing.
Pipe onto cupcakes 1 row at a time, moving up towards the center with each stroke.
Break Corn Chips and place on cupcake for ears.
Place 2 Green M&M's below ears for eyes.
Cut Black licorice into triangles and place below eyes for nose.
Pull apart Shoestring red licorice for mouth and place below the nose.
Place chow mien noodles on sides of face close to nose.
You're done!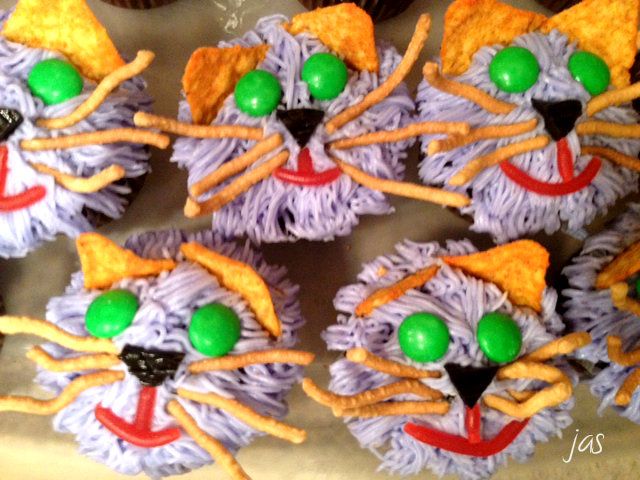 Fun to make
Fun to decorate
Fun to eat
Can you see the cat that the chip looks like the ear is folded down? Too cute!!
Weekend Project.....NOT. You won't see me working on anything this weekend.
I do have to share with you what my daughter-in-law sewed for me! OMGosh, I have a great family....
In the spirit of Halloween.
Hopefully, I will be able to promote the girls work on my blog soon, as they stay busy with their crafty passions!
Isn't it precious? Can't wait to wear it to our neighborhood Trick or Treat parade on Halloween night! Instead of the children going door to door to get their treats, they parade down the street in their adorable costumes and we give them treats as they parade. We also have a costume judging contest and a haunted house...
Oh and yes that's me and I bake with my boots on!
It is hard to get a picture of yourself! Yay for the smart phones!
CHEERS!