Today is the day to buy your turkey and place it in your Refrigerator to thaw. Or remove from your freezer and place in your refrigerator. I promise if you don't do this today your turkey will NOT be ready to cook on Thursday!
The Monday before Thanksgiving usually finds people rushing around to finish up their meal plans and possibly go to the Grocery Stores.
I recently came across a recipe for cooking a Turkey which I can assure you is quite Unique.
We are so fortunate to have access to the Web and have people share their recipes, techniques and knowledge about all that we do!
Since today is the day to start thawing your turkey, I saw fit (pun intended) to post this Turkey Recipe.
Put some fun in your cooking!
Thank you
Recipe Roundup
for sharing! Visit their blog to find out how to create and cook this sexy Turkey!
Weekend project.
Guess what? I didn't work in my yard after all...but the weather was gorgeous! I did, however, get a last minute urge to Crochet some Baby Beanies.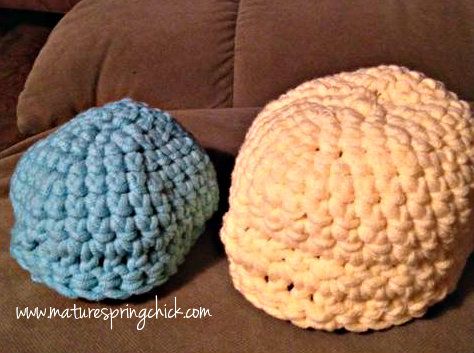 Remember.....start TODAY, saving your calories for Thursday!