Hungry?
Like Scallops?
Like Kale?
Like Home Made Mexican Cornbread?
Like Chili Hot Oil?
If you answer yes to 3 or more of these questions, then prepare yourself for a delightful feast.
First of all, refer to my
Mexican Cornbread Recipe Blog
and prepare the cornbread.
When your cornbread is cooked and cooling, cook your Kale and Scallops.
Saute your Kale in a small amount of Olive Oil
Salt and Pepper each to your taste
Prepare a sauce
I made Cranberry-Balsamic Vinaigrette
Blend Cranberry Chutney and Vinaigrette.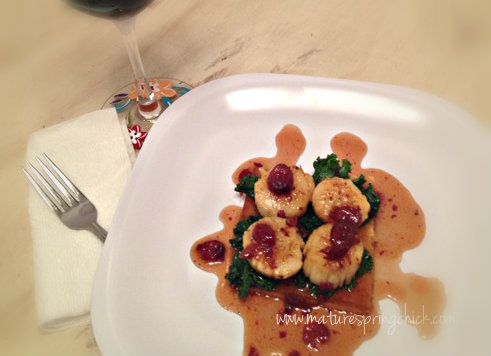 Plate your dish!
Square of Cornbread
Row of Kale
Row of Scallops
Garnish with sauce
Now to my weekend project. I enjoyed crocheting while watching football games! Yes, I can do BOTH!
Cute little clutch with a precious flower. Did you guess I was crocheting a flower?