Okay let's start with the Bucket List. Do you have New York City on there? If not, then add it! One more thing, visit during the Christmas Season! It may take a long time to save up for such an extravagant trip, but you will not be sorry!
There is one restaurant that you HAVE to visit. You have to be present around 7pm in the evening during the Holiday Season. Do you know why?
The ENTIRE restaurant staff stops working...because Santa Clause shows up!
The restaurant is broken down into 12 sections to perform the 12 Days of Christmas Song....
Are you smiling yet?
They ring the bells and everyone starts singing the song. When it gets to your number in the song, the table has to stand up, hold up their sign and sing as loud as they can, their part. It is very loud, so you are basically singing/screaming. The evening is so much fun and hey the food is not bad either. It is a MUST during the Holiday Season... These folks know how to get in the spirit!
Our table was ~~~6 Geese a Laying~~~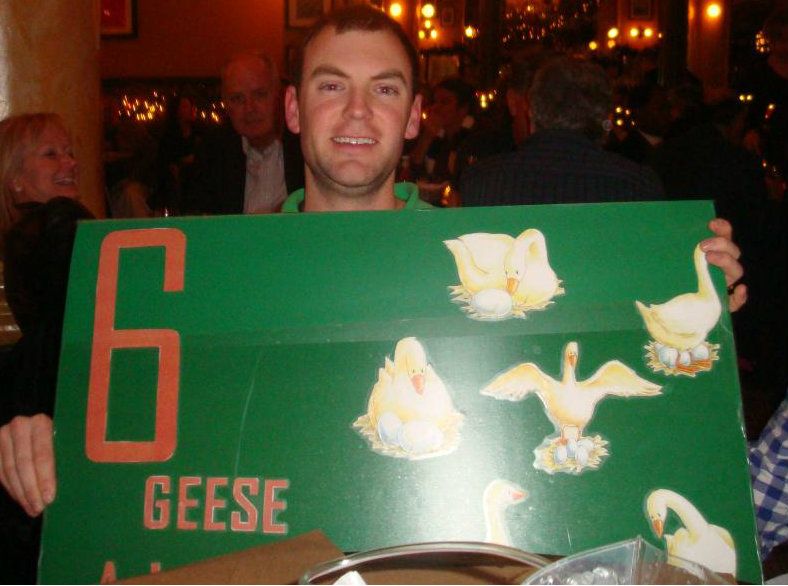 My 6'3" son, held our sign the highest and our table was the hit of the Restaurant.
Cafe Un Duex Trois
is a French Restaurant located at 123 West 44th Street in Manhattan, (I know~~Unique address). Make your reservations early and make sure you will be there during the 7pm hour!
I will start my Candy Baking real soon so stay tuned for some fantastic Christmas Candy recipes!!