The middle of December is my signal to Get busy Baking. Or else I won't make it...You know what I mean? By this date, I like to have all my Christmas decorations up, presents wrapped and under the tree and all the grocery shopping done to avoid the mad rush of people. Am I dreaming? Really it is my goal every year, it sounds wonderful doesn't it? Well, I am human and I get stressed, stay up late, can't sleep at night and sometimes I still don't get it done. Somehow though, everything falls into place right near the end. and then.....I am exhausted.
Last night, I began my baking marathon.
First things first. THE GINGERBREAD.
Gingerbread Houses....my favorite Christmas Tradition with my daughter. She has not arrived yet, but I am preparing for our Decorating day this weekend. This year we will also have my new daughter-in-law joining us for the first time.
In decorating gingerbread Houses you have three choices.
1) Bake your own gingerbread in your house molds or cut out the dough in the shapes of -front-back, two sides- roof sections(two).
2) Buy a kit that has all your Gingerbread baked in pre-formed pieces.
3) Buy the Gingerbread assembled and ready to decorate. (I recommend this option strongly if you are a beginner or pressed for time.)
But today, I will share my experience of baking my gingerbread, sharing the recipe and showing you the outcome.
As you will see, I am a human without professional experience in my own kitchen.
Gingerbread Dough
Ingredients:
1/2 cup Butter-room temperature
1/2 cup Dark Brown Sugar
1/4 cup Molasses or Dark Corn Syrup-I use a blend
1 TBSP Cinnamon
1 TBSP Ground Ginger
1 1/2 TSP Ground Cloves
1 TSP Baking Soda
2 Cups All-Purpose Flour
3 TBSP Water
Directions:
Cream Butter, Sugar, Molasses/Corn Syrup, Cinnamon, Ginger, Cloves and Baking Soda until smooth.
Add flour and water slowly until well blended.
Refrigerate Dough for at least 30 minutes.
Preheat oven to 375
°
Press dough into mold filling it up to the edge and carefully not going higher than the edge.
or roll out dough about 1/8" deep and cut out you house pieces.
Two rectangles for the sides 3X5, Two rectangles 3X5 1/2 for the roof, Two pieces for Front and Back 3x3 & one end slanted to a peak of 5 1/2.
You can cut out a paper pattern and lay on your rolled out dough to make your cutting smooth and accurate. Place your rolled dough in the baking sheet before cutting your sections, that way you can leave them on the baking sheet you will bake in.
Tips. Accuracy is important for a smooth assembly of your little house. (something I strive for each year...Ugh)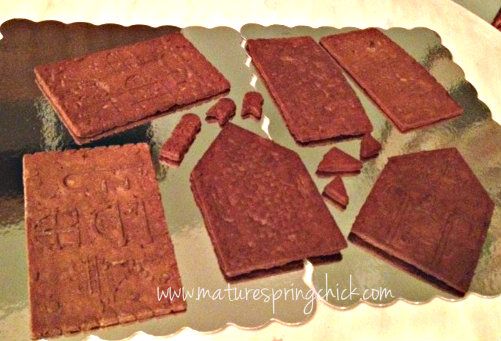 Now on to the assembly of these pieces.
Royal Icing
Ingredients:
4 cups of Powder Sugar
3 TBSP Cream of Tarter
6 TBSP water
Mix all ingredients with blender until completely blended and a texture of smooth fluffy white icing.
Pipe your side pieces together! Recruit some help....it is challenging. I also pipe a line on the cake board where I am standing up the sides.
Pipe the roof pieces and any other items you want to add to the sides and join at the top. I added a Chimney to mine.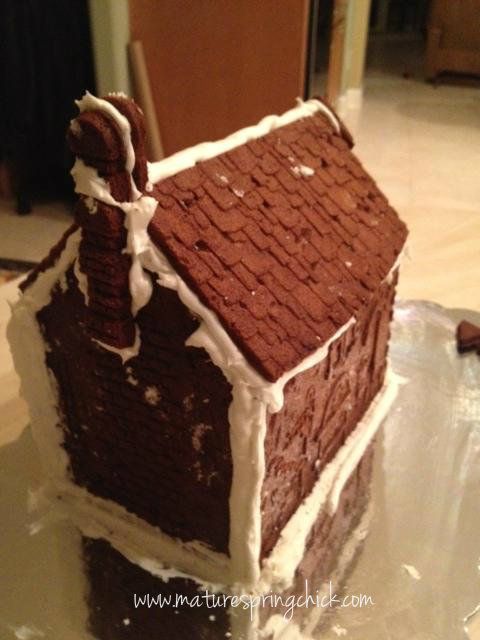 Now as you can tell - I ran into a few complications. Some of my pieces weren't thick enough and started to crack...Ugh! AND the first time I attached the pieces, I did it wrong and my roof was too short! Thank goodness the icing had not hardened yet, see the overflow of icing?
I have attached them together with Royal icing and will make sure I decorate over these blemishes....hence the "making gingerbread at home in the kitchen"... And my assembled icing is not usually this messy. hehe I said challenging - right?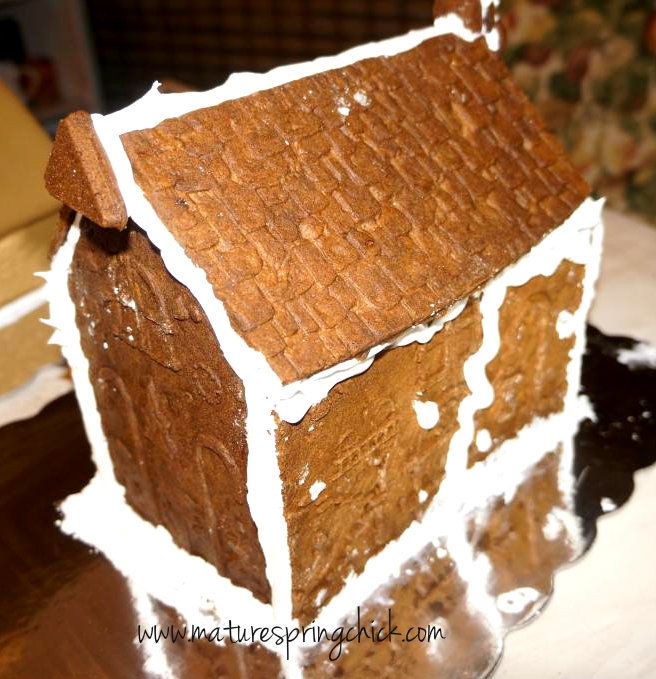 Thank you to my husband that helped me while I freaked out over my mistakes. I know it may look sloppy to your right now, but wait till you see it finished!
No worries, I am changing up my decorating plan and you will see the outcome when I finish decorating...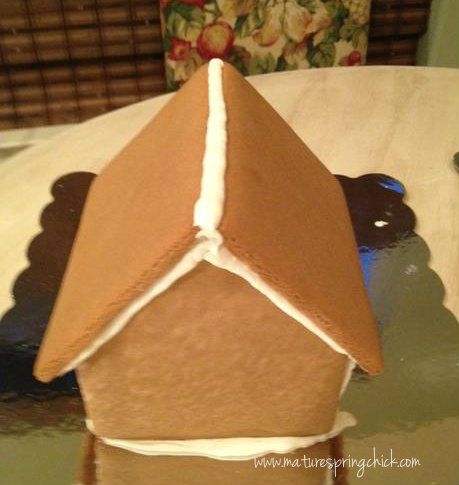 Here is a house I assembled - from a Gingerbread House Kit.
Both of these will decorate beautifully!
Now off to make some Candy....Yee haw!