Did you know?
Fat Tuesday is the traditional name for the day before Ash Wednesday, the first day of Lent. It is more commonly known as Mardi Gras, which is simply Fat Tuesday in French. It gets its name from the custom, in many Catholic countries, of marking the day with feasting before the fasting season of Lent begins.
Some areas of the country celebrate Fat Tuesday (Mardi Gras). There are mystic societys that parade down the streets of their town and throw candy and trinkets to the crowd. Is it the Beads or the Moon Pie's?
There is a Kind and Queen that reign over the Mardi Gras season leading up to Ash Wednesday.
While Mardi Gras in the United States is not observed nationally across the country, a number of cities and regions in the U.S. have notable Carnival celebrations. Because of the French and Spanish colonial history of the settlements, the earliest Carnival celebrations occurred in
Mobile, Alabama
Biloxi, New Orleans and Pensacola, which have each developed separate traditions. In addition, modern activities generally vary from city to city across the U.S.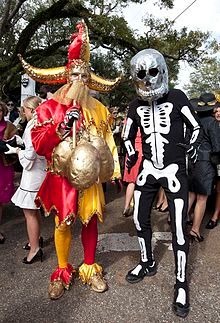 "Folly" and "Death" shown here are mascots for the oldest Mardi Gras Organization,
Order of Myths
. Folly chases Death around a column on a float in the parade.
New Orleans is probably the most famous for their celebrations.
How will you feast today?
I want some King Cake!
Queen of the King Cake
Bubbert, owner of Acadian Bakers, is very busy this time of year as orders flow in (each colorful cake is made to order) for a dessert treat that is part of the Mardi Gras tradition in the Gulf Coast. Although Bubbert will bake the cake for customers any time of the year, it is the days between Epiphany (Three Kings Day) and Fat Tuesday that the majority of the queen's kings are made. Located on West Alabama and has been in business for 32 years.
Happy Mardi Gras!