As a tribute to my Mother, I am sharing with you one of her recipes. I wanted to pick my favorite and realized, there are so many, how do I choose? I really think that her gumbo was one of the BEST in all of Mississippi and Alabama. Really! Everyone loved it and wanted the recipe. I am so happy that I was able to work with her in the kitchen and grab as many of her cooking inventions and secrets as I could.
Let me start by saying I have always made my own roux while cooking a pot full of Gumbo. However, lately, I have been noticing this product at the grocery store. I have been so curious about it I decided to give it a go! It works! I can actually recommend it!

Ingredients:
Tomato
1/2 cup chopped parsley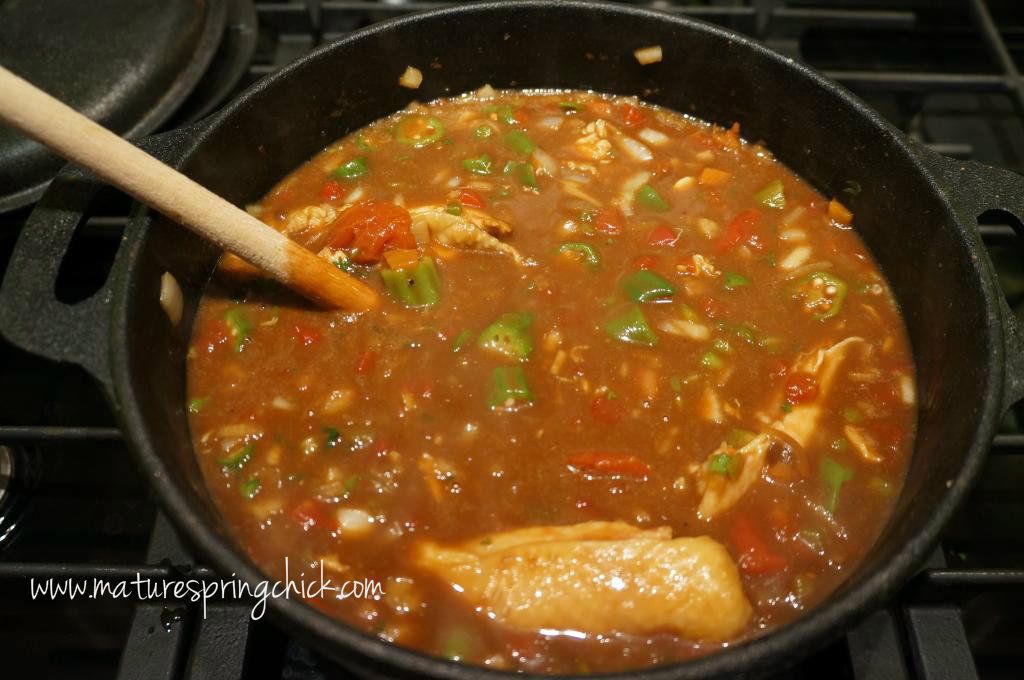 1 diced onion
1 diced green pepper
1/2 cup diced celery
2 cups okra
4 chicken thighs
2 crabs and/or 1 cup crab meat
2 lbs headless peeled shrimp
8 drops Tabasco
2 Bay Leaves
1/2 cup Worcestershire Sauce
1/2 cup ketchup
1 can stewed tomatoes
1 can petite diced tomatoes
Water
Salt/Pepper to taste
White Rice
French Bread
Directions:
Prepare your Roux in bottom of pot. Follow directions on container or make your own. I like cooking mine in my
Dutch Oven
. (Contact me if you need a good Roux recipe)
Add all other ingredients EXCEPT Shrimp and Crab meat
Stir all together combining ingredients.
Cover with water.
Bring to a boil.
Cover and Simmer for 2 hours.
Add shrimp and crab meat
Cook an additional 15 - 20 minutes, or until Shrimp is cooked.
Remove Crabs, Chicken Bones and Bay leaves.
Cook Rice.
Heat French Bread.
I don't think mine taste as good as my Mother's.
Wishing all the Mother's a Happy Mother's Day!