I never tire of the tasty Rice Krispy Treats, but wait! add a twist.....
Snazzy up your Rice Krispy Treats with the Nutella! Brilliant idea, right? When I saw these from
Chef In Training
I had to try and trust me you will NOT be disappointed.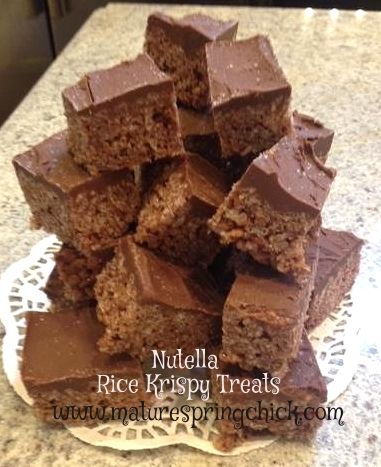 NUTELLA RICE KRISPY TREATS
Ingredients:


Frosting:
1 cup milk chocolate bits
1 cup Nutella
1 TBSP Shortening
Directions:
Melt Marshmallows and Butter in saucepan
Add Nutella
When all is melted pour into Rice Kripsies
Spread in greased pan
Frosting:
Melt Chocolate bits, Nutella and shortening in saucepan over low heat
When all is melted spread over mixture
Refrigerate until firm
Slice and serve!