What's for lunch?
My recipe for tuna salad is a little different than most and mine has a big KICK to it!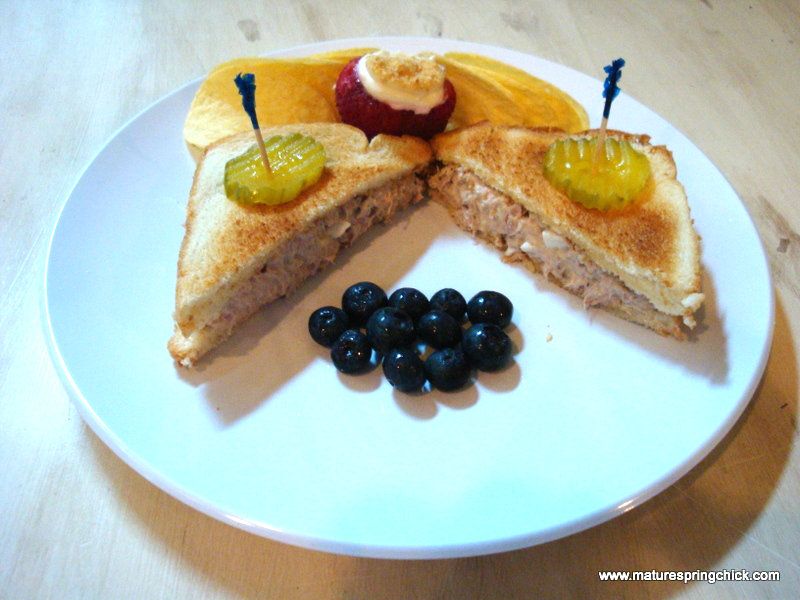 Tuna Salad with a KICK

Ingredients:
1 Large can of Tuna
2 heaping tbsp of Mayo
1/4 cup chopped pecans
1 Hard boil egg
2 tsp Grey Poupon Dijon Mustard
Salt and Pepper to taste
Mix all ingredients except Mayo and Mustard.
Chop all content with a knife.
Mix in Mayo and Mustard
Add Salt and Pepper
The picture shows a tuna salad sandwich that everyone likes. It is also how my husband prefers! You may omit the pecans if there is a nut allergy. I also like to add lettuce, tomato and onion to my sandwich. I serve the pickle on the side for those who don't eat relish. What gives this salad a KICK is the mustard...After toasting your bread, spread a little on your bread for the EXTRA KICK!
You may look at the photo and say..."Looks plain", but I promise you, you will love it. After being in the refrigerator for a couple of days and is very cold, I like to serve it up on plain bread for that really soft, smooth, cold refreshing feeling.